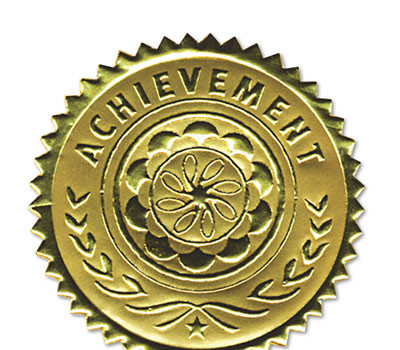 Such a short novel
John is a technician working on a big project. Suddenly his PM left for master studies and indicated him as substitute.
The company accepts the suggestion with one condition: John will receive coaching sessions from a senior.
3 years later John got his PMP and in 5 years was considered a Senior on his company.
– THE END –
Such a short novel, isn't it? I believe things could be a bit more exciting over the path… with new accomplishments every year. But how to give people this sensation? Using the Games concept of Badge.
Badges for Project Management Achievements
PMI already collects many information from our PDU registration: trainings, lectures, project effort, volunteering etc
Why not to define "Achievements" that deserve a BADGE? This way each PM could have his ACHIEVEMENT PANEL.
Examples:
Managed 10, 20, 30, 40, 50 projects
Managed a project over 5 million USD.
Managed 100 employees in a project
Presented a paper on an International Seminar
Performed 100 hours of PM trainings as a teacher
Trained 1000 people on PM knowledge
etc
Commemorative badges
PMI centennial
Managed a project for the Brazil world cup in 2012
etc
and why not sponsored badges??
Worked on IBM projects, Apple, Google etc
Used MS-Project (or other) in 40 projects
Managed projects using CMMI, ISO27000 etc
and others…
People can add the badges by themselves, no audits would be necessary (PMs are honest!)
We can use the badges to summarize achievements on resumes, add to websites, have a punctuation degree and even rank.
Head hunters could also start to use it to assess the professional experience (and stop asking so many strange questions)
Feasible?
Yeah!! surely and for many areas of work/knowledge, not only PMs.
After all, those who were born in the decades of 1970/80, love video-games!
Hey PMI, Linkedin, google, everyone… build us some badges!
Eli Rodrigues